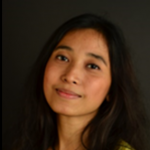 About
Born in Yangon, Myanmar, Nyein Su graduated with a B.C.Sc from the University of Computer Sciences, Yangon in 2003, and completed her second degree from Nanyang Academy of Fine Arts, Singapore. She has spent 3 years training at the YAG painting school in Myanmar, specializing in watercolor and oil where she combines her understanding and application of both techniques to her artwork.
Nyein Su's art attempts to capture how people perceive themselves through the lens that is their ego, as she portrays her own interpretation of life, emotions, existence, and politics. She uses the technique of repetition to capture the endless incessant feelings, events, and decisions of human beings.
Nyein Su won the ACR Painting Competition in 2011, and has participated in group exhibitions both nationally and internationally, including Myanmar, Singapore, and South Korea. In the year 2014, she founded her own gallery and studio Art Village, in Singapore.